Hi there!
I'm Seb, a web developer with 5+ years of experience making
With an affinity for front-end development and UI design, I focus my efforts on crafting adequate interfaces between humans and technology.
Discover my workDiscover my work
29 years old, living in Amsterdam, Netherlands and originally from Toulouse, France. Curious about mostly everything. An optimist at heart, always tries to focus on the bright side of things. A lover of memes, cats, red pandas, and cute animals in general. A millenial in mind and spirit. Will always strive to improve our world in the smallest ways.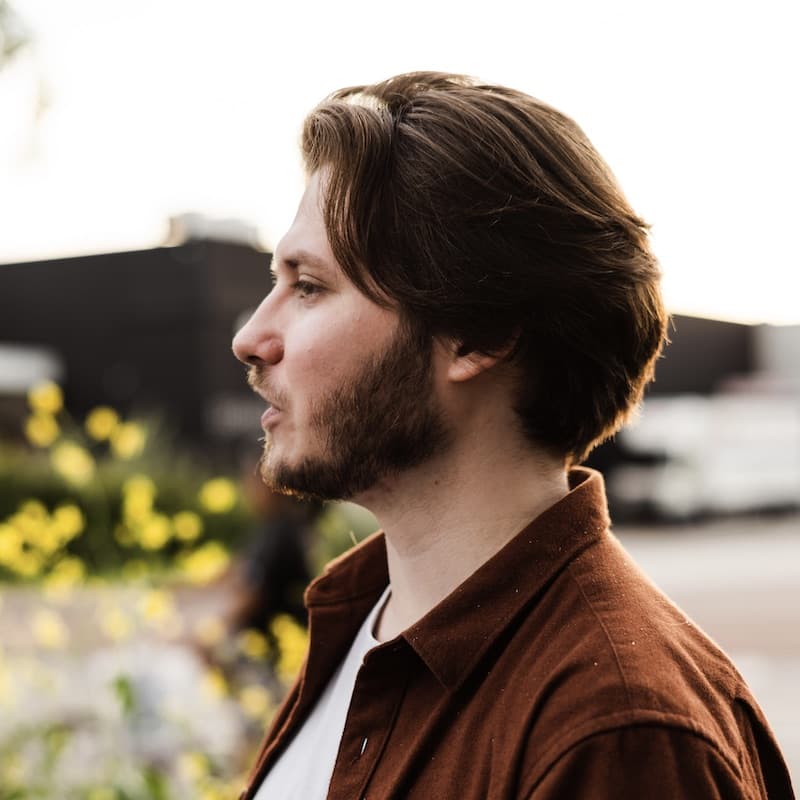 Solving puzzles is what I love doing most.
To find pragmatic solutions to practical problems and ideas. Whether it's building a web page, a contact form, an interactive installation, or a hands-free display, I'm always looking to shape the adequate interface.
I have a broad horizontal knowledge of all things Internet and tech, and my curiosity pushes me to learn new things and adapt to the fast changing Web continuously.
What I use regularly: HTML, CSS, Javascript/Typescript, ReactJS, and ThreeJS.
Previously
2023-now – Freelance
2019-2023 – Your Majesty – full time contract
2018 – Werkstatt – 6 mo. apprenticeship
2017 – Your Majesty – 5 mo. internship
2016 – Cinémur – 4 mo. internship
2015 – Purée Maison – 3 mo. internship
2014 – Oréalys – 2 mo. internship
I studied at HETIC (and got my masters degree) between 2014 and 2019, going through a multi-disciplinary program teaching us design, web development, communication, marketing, entrepreneurship, and everything else.
I was involved with the largest student movement in France, the Junior-Entreprises. I worked for 1 year at HETIC's own J.E., Synerg'hetic, then volunteered to work as part of the team of 20 students managing the French confederation on a national level.
Work
Swatcheditor

Next.js, Storyblok, Three.js

To view this video please enable JavaScript, and consider upgrading to a web browser that supports HTML5 video

Next.js, Storyblok, Three.js

For Swatcheditor, I have built a 3D model vieweran interactive webapp to preview textile patterns true-to-life in a 3D setting.

adidas – Tresc Run

Electron, Tensorflow, GSAP, Node.js

To view this video please enable JavaScript, and consider upgrading to a web browser that supports HTML5 video

Electron, Tensorflow, GSAP, Node.js

For adidas, I have built an app that makes GIFsan interactive GIF-omaton for a fashion launch event.

Dopper

Next.js, Node.js, GSAP, Three.js, CraftCMS

To view this video please enable JavaScript, and consider upgrading to a web browser that supports HTML5 video

Next.js, Node.js, GSAP, Three.js, CraftCMS

For Dopper, I have added many moduleshelped a B corp expand the ways they tell their story online.

V&A Dundee

Ruby on Rails (then Next.js, Storyblok)

To view this video please enable JavaScript, and consider upgrading to a web browser that supports HTML5 video

Ruby on Rails (then Next.js, Storyblok)

For V&A Dundee, I have updated the website for 4 yearsworked hand in hand with the museum's team to leverage their online presence to improve their visitor experience.

Sotheby's

Next.js, react-spring

To view this video please enable JavaScript, and consider upgrading to a web browser that supports HTML5 video

Next.js, react-spring

For Sotheby's, I have built a new set of modulesgiven editorial curators the power to create richer and more interactive digital catalogues for their incredible collections.

Your Majesty

Next.js, Three.js, GSAP, react-spring, fun

To view this video please enable JavaScript, and consider upgrading to a web browser that supports HTML5 video

Next.js, Three.js, GSAP, react-spring, fun

For Your Majesty, I have made useless thingsbuilt many small expriments and interactive playthings for research, internal activities, and company events.
Other clients
Please ask if you want to know more!
Available for work!
I'm available to take on new projects:
Amsterdam, hybrid or remote
Front-end web development, and also very interested in creative installations and explorations
Javascript/Typescript, React, CSS, Three.js (familiar with Vue/Svelte too)
I have availability right now and throughout the next few months! Ask me for an exact schedule
If my profile sounds interesting to you, please reach out via emailemail or through any of my socials.